Rich Stowell Partners with Questsphere to Bring Training Content to Smart Phones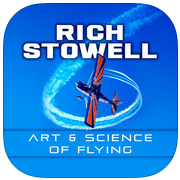 Eight-time Master Instructor Rich Stowell has partnered with the software company Questsphere to create the Art and Science of Flying library of apps for the iPhone. "Basic Aerobatics Volume I" was recently released through Apple's App Store as the first app in the series.
According to Questsphere CEO Gary Brook, "I took the EMT program at CP Aviation in Santa Paula, CA, which included the Basic Aerobatics Module. I was hooked, and soon began flying solo aerobatics." Brook continued, "While the course and available training materials were excellent, I wanted easier access to key information. An iPhone app seemed an ideal way to be able to review pertinent topics before climbing into the cockpit."
"Basic Aerobatics Volume I" costs $9.99 and covers the following:
Control Inputs
Aresti Symbols
Know Your Rolls
One-Turn Spin
Loop
Aileron Roll
Immelmann
Half, Full, and Reverse Half Cuban Eights
Users can choose textual and video modes for each topic, and can post to Facebook directly from the app. With the app engine now in place, generating additional apps in the Art and Science of Flying series will be a straightforward process. The initial plan is to turn Stowell's existing content into several more apps, with "Basic Aerobatics Volume II" scheduled for release in September 2014. In-app advertising opportunities are being explored as well.
Rich Stowell is the 2014 National FAA Safety Team Representative as well as the 2006 National Flight Instructor of the Year, and is a recognized expert on loss of control. Questsphere is a full service mobile application and software development company, and has developed products ranging from integrated air traffic control systems and artificial intelligence engines, to mobile applications.